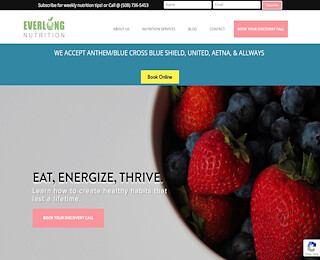 At Everlong Nutrition, we offer customized diet programs that don't keep you away from your favorite foods or attending social events. Our weight loss nutritionist in San Diego, CA, Adi Wyshogrod, is always easily accessible and available for questions and guidance, making your fitness journey a child's play.
Benefits of working with a nutritionist
To witness sustainable success with weight, you need a customized weight management program from an experienced nutritionist. Here are some pluses of working with a San Diego nutritionist and dietitian like Adi Wyshogrod:
You need an expert's input to get started on a customized diet program that can help you reach your dream weight loss and fitness goals within a reasonable amount of time. We will take a deep look into your goals, struggles, and background to develop a roadmap designed specifically for you. No one-size-fits all plans here!
A nutritionist can offer moral support, motivate you to stay on track, and guide you towards attaining a lean and powerful body. As a client, you will check in with your dietitian every week to help evaluate your progress, share updates, reassess goals, and get the coaching and support you need to be successful. 
To lose weight, you need to eat fewer calories than you burn. Only a dietician can explain the caloric value of each food in your diet plan and guide you on eating right without putting your body through unnecessary stress. Your dietitian will provide you with the recipes, meal ideas, behavior tracking worksheets and more to help you achieve your goals!
If you have been working hard to shed a couple of pounds for quite some time, without any meaningful results, it may be time to meet with a registered dietitian and nutritionist. A healthy weight and a fit body are vital for a happy and fulfilling life, and a dietician may be the best person to get you there.
Can a nutritionist help with weight loss?
To lose weight fast and effectively, you need to follow an integrative plan that encompasses a proper diet program, a movement routine, and sufficient sleep and rest. A nutritionist can create a tailored diet program and provide you with tips for physical exercise and positive lifestyle changes, helping you reach a healthy weight and maintain it in the long term.
A nutritionist will motivate and support you, and track your weight loss journey progress. The expert will also change your weight loss program from time to time to make your journey more fruitful and worthwhile.
How we help people with our online nutritionist services?
Our nutritionist in San Diego, CA, Adi Wyshogrod, is a registered and licensed dietician with the best wellness and nutrition tips who has transformed the lives of multiple individuals with eating disorders, overweight, and obesity problems. Here's how Adi help our clients embark on a life-reforming journey towards improved health and wellness:
Personalized and individualized nutrition coaching to improve your health, nutrition, and quality of life.
We provide our clients with the last nutrition program they will ever need and offer weekly check-ins to ensure they remain on the right path.
Our leading San Diego CA dietitian designs a diet plan around your unique needs and expectations, ensuring that you do not forgo your favorite foods or miss out on social events.
We're not like other diet plans here and we'll never leave you on your own! As an Everlong Nutrition client you have access to your dietitian daily to ask questions, get additional support, and discuss any struggles you are facing between check ins. Do not let your love-hate relationship with food affect your health, life, and self-confidence negatively. Get in touch with one of us at Everlong Nutrition (619) 393-4940 to schedule an appointment with Adi Wyshogrod and get started on a life-transforming journey.
Weight Loss Nutritionist San Diego CA
Everlong Nutrition, LLC
(619) 393 4940
3700 10th Ave Apt 1L
San Diego
CA
92103
View Larger Map
We welcome your comments!